If you can't see the video, go here: http://youtu.be/6Wa94Rpslpo
A convenience store is probably the second or third building you will go into when you arrive in Japan. The first being the airport, the second possibly a hostel or hotel, just incase you wanted to test me. They are everywhere, so you won't have any trouble finding them, and they are reasonably priced - though a little more expensive than the shops that will end up being your locals if you stay here. The other benefit is they sell pretty much everything, and there are a few other things you can do there that you might be surprised to hear.
Before I reel off a list that will drop your jaw faster than a naked supermodel, I just want to say that we are not endorsed nor do we support any particular brand, we are just providing information of services available. However, if any convenience company wants to give us money please get in touch we'll be glad to alleviate you of cash for advertising. Also, if any of these "surprising things" are no longer surprising because you have them in America now, or whatever, then I apologise but they don't as far as I know, and didn't when I was there.
The video above shows just about everything that is in the store, but let me list the essentials. In a Japanese convenience store you can:
Buy Food: Kinda obvious, but it's true. You can buy snack foods from potato chips to dried squid, ice cream to frozen chips, rice balls to fresh fruit. There's prepared meals which just need a minute in the microwave to get you going (they will even ask you if you want it heated in store). There's sweets like chocolates and super sour fruit gums, but be careful because the packets are very small. They also have fried food like hot dogs and meat buns (nikuman) kept warm in a glass case that is possibly fuelled by the burning souls of disrespectful customers, but Japan is pretty short of those so I guess not.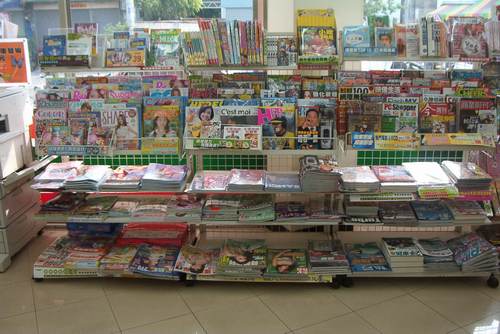 Read comics and magazines for free: A convenience store is like a library. People go in there and flick through the magazines, read all the comics and then leave. They sell all sorts too. From kids manga and puzzles to study books, style mags to young adult manga complete with bikini model shots and no holds barred porn. It's all right on the shelf on the same level with a wide range of fetishes, real women and cartoon... not that I know anything about that, but if you can't find what you want, check on the shelf under the main displays. They have even more there. Ahem.
Buy seasonal gear: Depending on the current time of year, convenience stores will have a small section devoted to surviving. In winter they sell cheap hats, gloves, scarves and pocket heaters. In summer they sell hand fans, folding fans, cooling gel and other things to get through the heat. It can be good, and I've used it when I've lost gloves on the way home. Just don't go in their expecting fashion. Your choices are normally black or black. You can always get a cheap umbrella or cover-all to protect from a sudden rainstorm too!
Buy DVDs: They have some older, cheap movies by the entrance, but some new, fancy ones (and Adult Video) behind the counter. Just ask the clerk! I know you won't!
Go to the toilet: Yes! conbini's (conveniences stores) have public toilets that you are allowed to use without having to worry about the formality of having to buy anything in store! Genius! If you are lucky, they may even have a heated seat.
Bank: There will always be an ATM. They do all the things that western ATMs do and also deposits! I don't remember all western ATMs doing that. Just be careful, they will charge you for withdrawing money, about 100 yen or double that if it's a holiday. However, if you have an account with Shinsei bank, the online bank, it's completely free all the time. So guess who I have an account with. This is all extra awesome because bank's ATMs are rubbish in Japan and access is usually restricted after 7pm (defeating the whole point of having an ATM, stupid Japan) but conbinis are sometimes open 24 hours, at least until 11pm anyway.
Pay Bills: Through the post, for gas, water, electric, tax, health insurance, your internet and probably your mobile phone (depending on carrier) you will get a paper slip that you can take to the conbini. They will stamp it, ask you to press a button and take your money. Bill is paid! Go home and rest! Some places will not take payments for tax or insurance though. Kill them. Burn their souls and eat their children.
Make online payments: This is my absolute favorite! I've been trying to get a credit card in Japan since I got here 4 years ago and I have never succeeded. For why I do not know. I also refuse to use my UK card because the bank transfer fees to pay the bill are almost as much as the credit card bill. So, I was delighted to discover that in Japan you can buy something online and then choose to pay for it at a conbini. The company will email you a code, you take it to the conbini and show it to the clerk or input it into the computer like machine by the ATM and it will print a receipt. Show that to the clerk and then pay your money. Then you just wait for your delivery, or if it's tickets, the clerk will give you them on the spot.
Buy tickets: On the same computer like machines, you can search for bus tickets, plane tickets, concert tickets, lots more and you can buy them there and then. It's really fantastic. I've used it 5 times for concert tickets (4 times for the same band) and no fails.
Photocopy/fax: There is copy machine that's coin operated and it usually has fax capability and an English language option. It's great if you forget an important document after leaving work.
So Japanese convenience stores are truly convenient. The only problems I have ever had with them are when they are on the other side of the road... or when Nat almost choked on some plastic in an onigiri. And oh my, how cute. My cat is playfully clawing at my fingers as I type so I want to keep typing rubbish just so she'll carry on playing with me. She is so furry!
Oh well, this will be boring for you guys. So I'll stop and play with my kitten properly. No that is not a euphemism Get your mind out of the gutter. There isn't room for the both of us.
So why don't you tell me the best thing you ever found at a convenience store. What was it?